The Early Stories
The Kids' Stories
I have been writing about S-d since I was a kid, so there are a lot of stories. In the modern timeline, so far, most are middle grade or YA, because I was young and writing from the kid's eye view.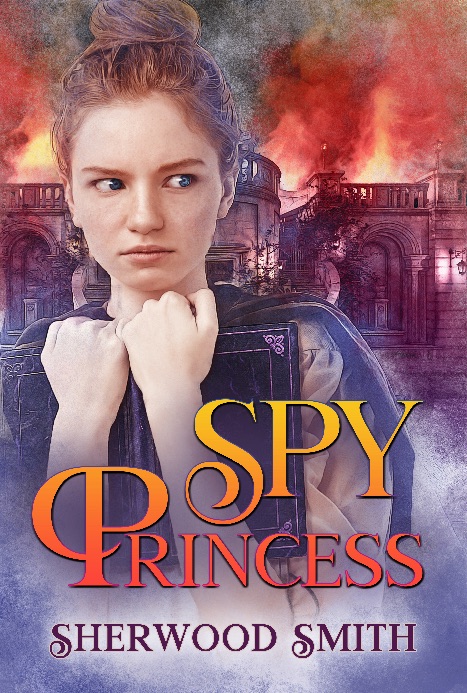 The Spy Princess
; Re-release, Book View Cafe,September 2020
Book View Cafe
|
Kindle
|
Kobo
|
paperback at Amazon
|
12-year-old aristo Lilah longs to understand the secrets the palace hides. Her cold, controlling uncle–the king–keeps raising taxes. Her older brother Peitar, the king's heir, spends more time writing mysterious letters than talking to her. And her father just wants her to learn court manners.
Since everyone is ignoring her, Lilah disguises herself and slips outside to befriend the ragged kids outside the palace walls. She learns about poverty, and that revolution is fermenting, led by the charismatic young commoner Derek. And Lilah is shocked to learn that her scholarly brother is allied with Derek.
The revolution ignites into chaos and violence. Lilah and her friends are determined to help however they can. But what can four kids do?
Become spies, of course! Chases and disguises, captures and trials lead to a wild climax, with Lilah right in the middle.
New, thoroughly revised edition
Original edition published by Viking, 2012. Finalist for the 2012 Mythopoeic Fantasy Award for Childrens Literature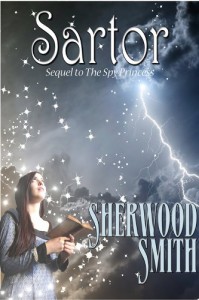 Sartor
, Book View Cafe, August 2012
trade paperback | Book View Cafe ebook | Nook | Kindle | Audio book
In this sequel to The Spy Princess, Lilah, newly made a princess, teams up with Atan, the hidden princess of the oldest country in the world, Sartor, to free the kingdom from a century of enchantment.
Capture, escape, a forest beyond time, ancient beings, civilizations secreted in caves, and a deadly enemy await the girls. Atan knows that if she survives, the challenges facing a fifteen-year-old queen are only beginning.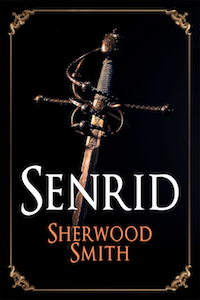 Senrid
Book View Cafe | Nook | Kindle | paperback at Bookshop.org | Audio book (narration starts rocky, great at end)
The kids on the good side are united in one thing: regarding Senrid as a villain. So what do you do when you're fifteen, supposedly king of one of the most powerful kingdoms in the world, but all you have on your side are wit, will, and maybe a few skills? And what if the people you like best are your enemies, and your powerful uncle, the regent, want to see you dead?
This is actually three novelettes and a novella, forming an arc with Senrid at the center, written just after I turned fifteen.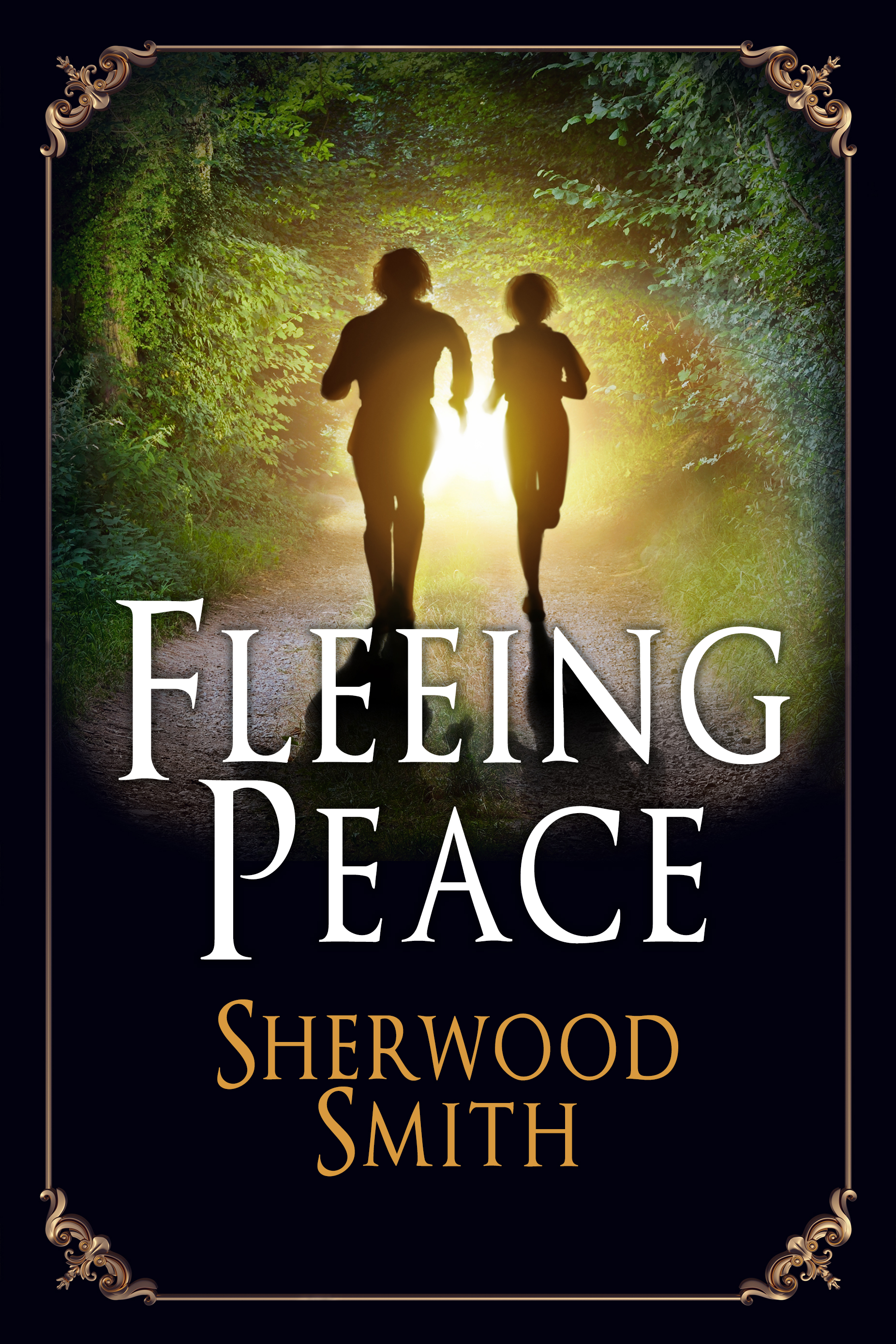 Fleeing Peace
Book View Cafe | Kindle | Nook| paperback at Bookshop.org | Audio book (excellent narration, but most names mispronounced)
Siamis said, "Your young friend Liere is not going to enjoy the trap she's walking into, I fear. But you figured that out, did you not? Why didn't she listen to you?"
"To snap her fingers under your nose," Senrid retorted.
"Irresistible." Siamis smiled gently. "But it's going to cost."
Fifteen-year-old Senrid is newly king of the difficult warrior kingdom Marloven Hess . . . just in time to lose it, and find himself running for his life. When Senrid is captured he overhears a secret–one he can use against the enemy, a charismatic, handsome man named Siamis who can read minds, and who enchants people just by talking to them.
Liere has always known she was special, which just increased her loneliness and sense of isolation. She can hear others' thoughts, and she senses the real emotions that people try to hide. When a golden-haired man named Siamis comes to her village and enchants the entire town around her, she finds herself on the run.
Liere and Senrid couldn't be more different, but their goal is the same, to locate the powerful magic that will unravel Siamis's world enchantment. Chased by powerful enemies, Liere and Senrid are tested to the max as they form an alliance of kids to aid them, and gain magical support from surprising sources. Neither ever expected to discover something even more powerful than magic: friendship.
First written when I was almost sixteen, this is the story of how Senrid and Liere first met, and leads directly to THE YOUNG ALLIES arc, before THE NORSUNDER WAR.

The CJ Notebooks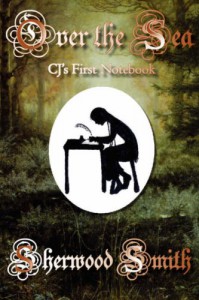 CJ's First Notebook: Over the Sea
Book View Cafe | Kindle | Audio book
When Sherwood Smith was eight years old, she had dreams about a girl queen who traveled between worlds, looking for girls who loved adventure. Clair came to Earth, where she found CJ, and adopted her as her princess best friend. One of her jobs was to serve as leader for Clair's gang of girls, as they encountered villains who thought it would be easy to take a kingdom away from a mere kid. From the shadowy Kwenz, a powerful mage with a very wicked past, to the usurper Glotulae and her son Prince Jonnicake, who in their ridiculous way were just as determined to boot Clair out, there were plenty of chances for adventure. And mystery, like why did kids from other times and worlds show up every now and then? These are the early stories, how Clair found her gang of girls, and how "the M girls" developed the fine art of the Duel to the Pie.
CJ's Second Notebook: Mearsies Heili Bounces Back
Book View Cafe | Kindle | Audio book
"I am Princess Cherene Jennet Sherwood of Mearsies Heili, hater of evil, foe to all villains, and wielder of the prune pie of justice!"
That's how CJ Sherwood introduces herself when she lands into her craziest adventure yet. In this, the second volume of CJ's records, she and her gang of friends gathered around the thirteen year old queen, Clair Sherwood, find themselves beset by magical spells and various villains. They still manage to have fun in the underground hideout in the middle of Mearsies Heili's woodland.
CJ loves life with 'the M girls'—so she is completely unprepared to be taken away and put in a silken prison in order to forget being a princess. AS CJ uses her brains and imagination to get out of trouble, she has to think about what being a princess really means.
She also discovers that there are things even tougher to deal with than terrible enchantments, sinister shadows, and lurking villains: teenage boys.
CJ's Third Notebook (still in process of being typed up)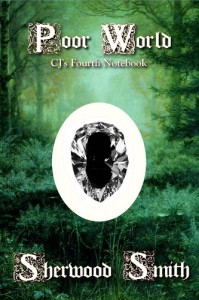 CJ's Fourth Notebook: Poor World!
Book View Cafe | Kindle | Audio book
CJ and the gang of girls like their adventures fun, and their villains defeatable by a well-thrown prune pie. As for stories about heroes getting stuck with saving the world, they laugh . . . until they are captured by a crazy young man who might actually have a chance at world-conquering. No heroes seem to be stepping up, so it's up to the M girls!

There are a couple more notebooks here which may or may not be typed up. CJ and the gang get involved more in world politics, because of the foregoing.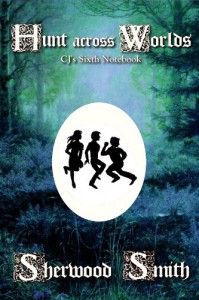 Hunt Across Worlds
Book View Cafe | Kindle | Audio book
CJ wrote up this adventure for her journal, though the M girls only come in at the end. It begins with two kids from Earth who discover a boy from another world being kept hostage. When they rescue him, they end up having to cross the USA before being blasted by magic to Mearsies Heili, where they meet a sailor girl who's been stuck in charge of a Mysterious Magical Object.
CJ and the gang try to come to the rescue, discovering that being on the edge of big events can lead to bigger questions . . . leading straight to the troubles chronicled in Fleeing Peace.
Like all the CJ Notebooks, these were first written when I was a teen.
Some have asked me about fan language.