Bibliography
Links to various booksellers provided. I hope people will consider Book View Cafe if possible, as most of the royalty goes to the author, and the e-book formats are both epub and mobi (Kindle).
Sartorias-deles stories reading order explained in FAQ
Coming Soon or Just Out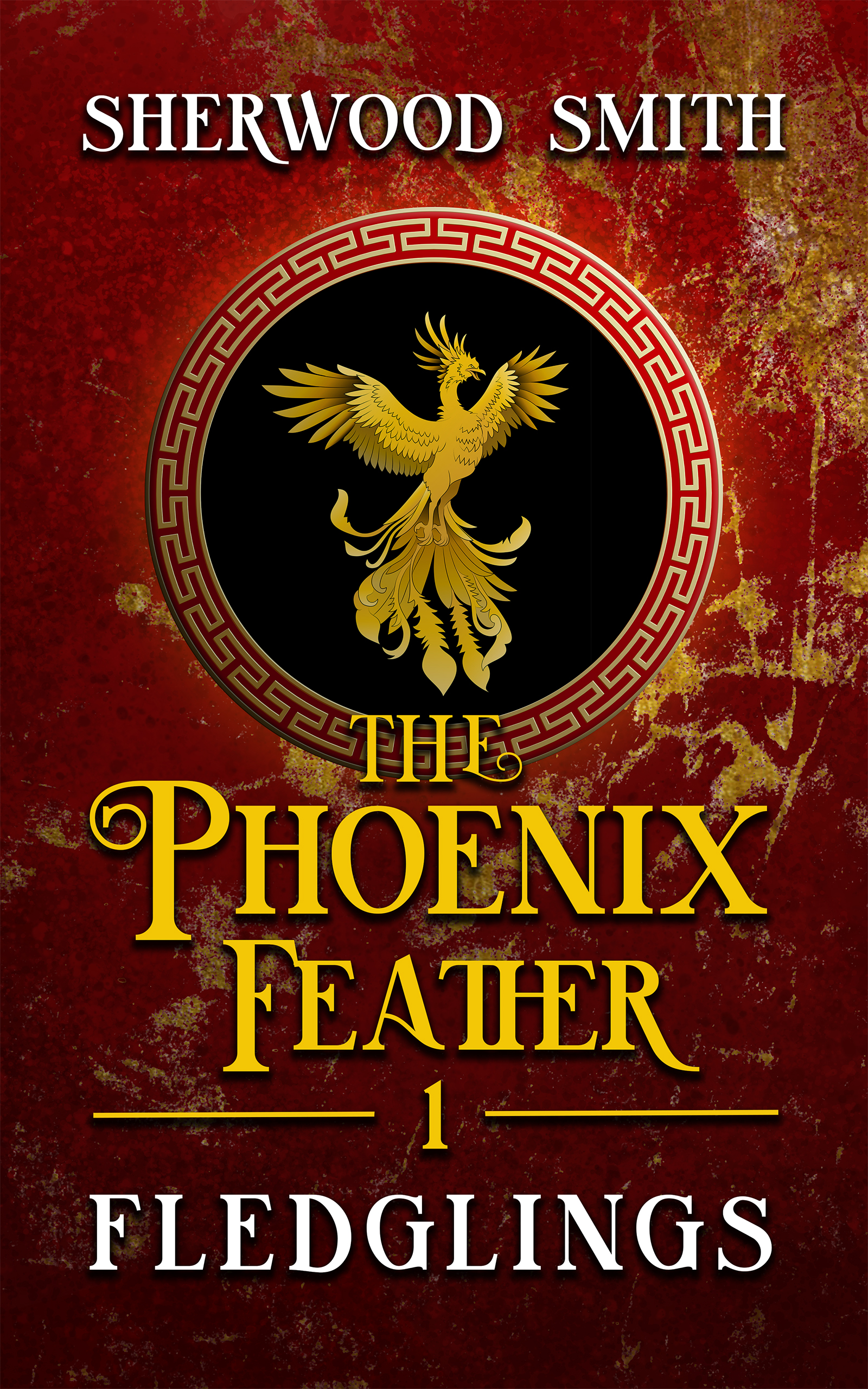 The Phoenix Feather: Fledglings
August 2021
Book View Cafe | B&N Nook | Kindle | paperback | hardcover isbn 9781611389722
My pandemic "Just write the fun parts" project.
Twenty-five years ago a pair of lovers ran for their lives from an angry prince and washed up on an island where they adopted new identities—and found themselves blessed by an omen promising great things, a single golden phoenix feather.
Their eldest child, a natural martial artist like his father, seems destined for those great things. The second son, an artist and a dreamer, has no desire for greatness—he wants to be left alone to paint. And the youngest, a daughter, used to wearing her brothers' castoffs and trotting at their heels, is the least promising, always scamping her studies in favor of sword lessons and play.
All three vowed to keep their parents' dangerous secret. But in this first volume, Fledglings, the family learns that sometimes children must follow their own paths . . .
The Phoenix Feather: Redbark
12 October 2021
Continuing my pandemic "Just write the fun parts" project.
Twenty-five years ago, a sworn bodyguard and a reluctant bride fled an angry prince, married in secret, and vanished. That prince is now the emperor, with a very long memory.
The children of the missing pair are now making their way in the world under assumed names, hoping to avoid the emperor's wrath while following their special Talents.
The eldest son Muin is rising the ranks of the army. The second son Yskanda, a remarkable painter, is a prisoner in the lethal, silken cage of the imperial court.
The youngest Ryu, disguised as a boy, studies martial arts and the mysterious Essence power while leading the Redbark Sect that fights for justice for commoners. Her closest companion hides dangerous secrets of his own.
Meanwhile the emperor's own children test the boundaries of royal power and intrigue, stirring ripples that threaten guilty and innocent alike.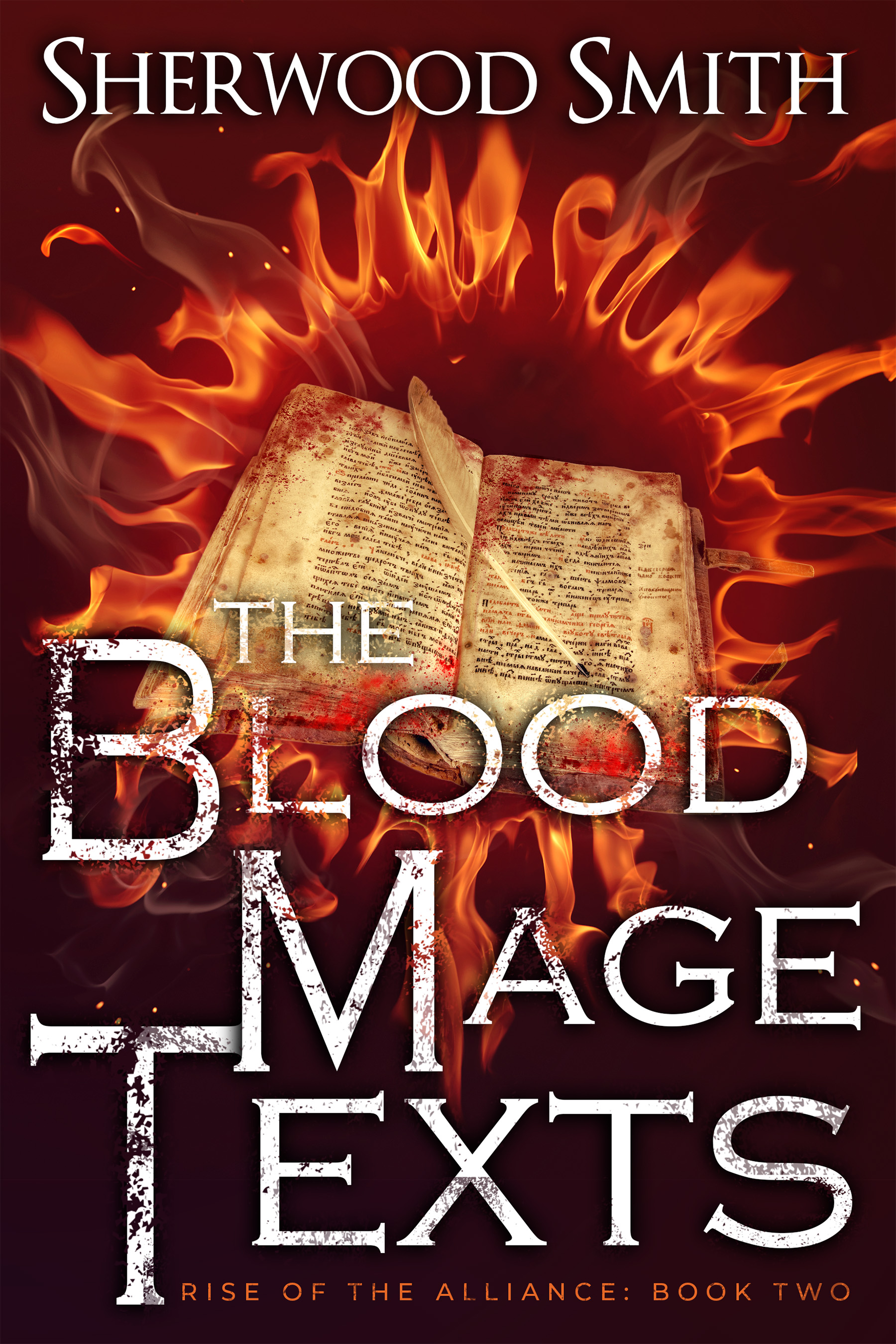 The Rise of the Alliance II: The Blood Mage Texts
14 December 2021
Long-dormant magical forces are moving again in Sartorias-deles. In volume one, A Sword Named Truth, a shaky alliance made among young rulers brought too early to their thrones survived a first foray, commanded by Siamis, the handsome young Norsundrian who was born four thousand years ago. Siamis was defeated, and the world celebrated, believing peace had come!
But the world's mages know it's not the quiet of peace—it's the stillness before the storm.
At the start of volume two, The Blood Mage Texts, the alliance seems to be a thing of the past as everyone is dealing with the fallout of the abortive attack. Rel the Traveler arrives back home to a surprise that has been awaiting him since he was first adopted, launching him on a personal quest.
Jilo, the king who is not a king, finds what looks like dangerous magical texts and hands them off to his friend Senrid, young king of Marloven Hess, who is in the midst of wrestling with his warlike nation. When word gets out that these eight-hundred-year-old blood mage texts are in the ignorant hands of youngsters, all of Norsunder's mages want them.
Meanwhile Siamis has gone renegade, hunted by both sides.
All the searches converge on Chwahirsland, furnishing new twists in the on-going saga of the alliance of young rulers . . .
Traitor (Book Four of the Change series), co-authored with Rachel Manija Brown;
In Traitor, Voske comes back.
All of Felicite's secrets come crashing down around her; a resistance is formed by those least expected; Ross, Jennie, Mia, and former princess Kerry are forced into the position of heroes once again, always with commensurate cost.
And Paco is forced to face the father he denied.
Sartorias-deles, Modern Era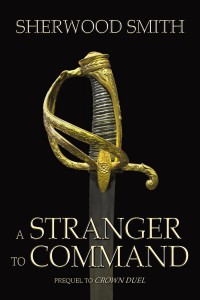 A Stranger to Command
Book View Cafe
|
Nook
|
Trade Paper, Amazon
|
Kindle
|
paperback, Ingram
|
Audio book [and a really, really good recording]
Vidanric Renselaeus, Marquis of Shevraeth, is a courtly, well-mannered teen coached in the noble art of dueling. Growing up in a court that on the surface seems civilized under an increasingly despotic king, he is sent by his father to the infamous military academy in Marloven Hess. He expects to be reading theories about statecraft, but finds that he is going to learn about military command from the inside–and finally, what it really means to be king.
In this prequel to Crown Duel, the reader learns what made the elegant Vidanric into the enigmatic Marquis of Shevraeth.
Crown Duel
Book View cafe
|
Nook
|
Kindle
|
Audio book
|
Paperback, Amazon
| |
paperback from Ingram
hardcover edition from Ingram
In print for over twenty years, CROWN DUEL is written from the point of view of "the barefoot countess" Meliara. She and her brother promised their dying father to free Remalna from a bad king's oppressive rule and to preserve the vital Covenant with Remalna's aloof, unhuman Hill People. Meliara is determined to win or die fighting. She not only has the evil king to contend with, there's the elegant Marquis of Shevraeth, who always seems to be one step ahead . . .
Brought to court by a mysterious letter,  Meliara finds herself the subject of courtly intrigue, both sinister and romantic. Sinister is the deposed king's sister, and her handsome, elusive son. Romantic is a secret suitor who courts her by letter.
Then there is the enigmatic Marquis of Shevraeth–enemy or friend? Is risking your life less dangerous than risking your heart?
The ebook and the definitive printed editions (same cover as e-book) correct the many errors in the old paperback, and offer six scenes from Vidanric's point of view at the end.
Nominated for ALA/YASLA Best Books for Young Adults, on the ALA/YASLA Quick Pick List for Reluctant Young Adult Readers, and named one of NY Public Library Best Books for Teens, 1998 list. Finalist, Soaring Eagle Award (Kids 12-18 voting, Wyoming Library System)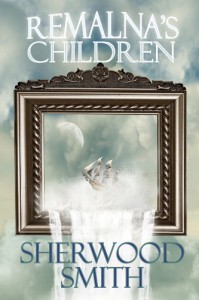 Remalna's Children: "Beauty" and "Court Ship"

Book View Cafe
|
Nook
|
Kindle
|
Audio book
The Crown Duel next generation: Two novelettes about Mel's and Vidanric's older two offspring, Prince Alaraec ("Court Ship") and Elestra ("Beauty"). In the latter, the middle child, who thinks of herself as the plain one of the three Renselaeus siblings, goes into the throne room to look at a tree, and meets a beautiful villain. Thus begins a duel of wits with unexpected results.
In "Court Ship" Prince Raec and his best friend, Nadav, heir to the duchy of Savona, go on a mission to court a princess. Both boys get distracted . . . but the princess is determined to keep them on task. A dance of diplomacy and romance ensues.

Here is a map of Remalna, the tiny country where Crown Duel takes place.
The Change Series Page (YA hopeful dystopia written with Rachel Manija Brown)
Dobrenica Urban Fantasy Series
Regency Era Stories
In L. Frank Baum's Oz
The Emerald Wand of Oz; HarperCollins, January 2005 Amazon
Trouble Under Oz; HarperCollins, August 2006 Amazon
Science Fiction written With Andre Norton
Derelict for Trade (Solar Queen Universe); Tor Books, March 1997| Audio book
A Mind for Trade (Solar Queen Universe); Tor Books, June 1997 | Audio book
Echoes in Time (Time Traders Universe); Tor Books, November 1999 |Audio book
Atlantis Endgame (Time Traders Universe); Tor Books, December 2002 | Audio book
Other Media-related Science Fiction
Augur's Teacher; based on the TV series Earth: Final Conflict; Tor Books, August 2001
Paradise Drift; based on the TV series Andromeda; Tor Books, October 2005
"Masks," The Feathered Edge, Sky Warrior Books, 2012
"Court Ship," Firebirds Soaring, Firebird, 2009; reprinted in e-form in Remalna's Children
"Beauty," Firebirds, Firebird, 2003, reprinted in e-form in Remalna's Children
"Miss Austen's Castle Tour," Lace and Blade 2, ed. Deborah J. Ross, Norilana Books, February 2009
"Rule of Engagement," Lace and Blade, ed. Deborah J. Ross, Norilana Books, February 2008, REPRINT, Lightspeed 2014
"Commando Bats," Athena's Daughters, 2014
Older Stuff
"Monster Mash," Werewolves, eds. Jane Yolen and Martin Greenberg, Harper & Row, Summer 1988
"Ghost Dancers," Things That Go Bump in the Night, eds. Jane Yolen and Martin Greenberg, Harper & Row, Summer 1989
"Daria's Window," Sisters in Fantasy II, eds. Susan Shwartz and Martin Greenberg, NAL, March 1998
"Faith," A Wizard's Dozen, ed. Michael Stearns, HBJ, Fall 1993; reprinted in Between the Darkness and the Fire, SFF Net anthology, 1998; reprinted in Read (teen version of Weekly Reader), November 2000
"Curing the Bozos," Bruce Coville's Book of Aliens, BPVP, February 1994 (fifth printing 1995)
"Echoes of Ancient Danger," Orphans of the Night, ed. Josepha Sherman, Walker & Co., Spring 1995; reprinted in MOOREEFFOC, Summer 2000, vastly rewritten and published as "The Rapture of Ancient Danger," in Beyond Grimm, e-Anthology, Book View Cafe, 2012
"I Was A Teen-Age Superhero," Starfarer's Dozen, ed. Michael Stearns, Harcourt Brace, Fall 1995 (paperback, 1996)
"What's A Little Fur Among Friends?" Bruce Coville's Book of Spinetinglers, BPVP, January 1996
"Visions," Bruce Coville's Book of Magic, BPVP, March 1996; On Year's Best List for 1996 picked by TANGENT Magazine; reprinted MOOREEFFOC December 2000
"Illumination," Nightmare's Dozen, ed. Michael Stearns, Harcourt Brace, Fall 1996
"And Horses Are Born With Eagles' Wings," Realms of Fantasy, October 1997; reprinted in Electric Wine, January/February 2000
"Mastery," Wizard Fantastic; ed. Larry Segriff and Martin Greenberg, Tekno Books, 1997
"And Now Abideth These Three;" Realms of Fantasy Magazine, 1998; reprinted in Coyote Wild, December 2007
"Finding the Way," Bruce Coville's Alien Visitors, Scholastic, October 1999
"Diary of a Henchminion," Faeries, France, 2001; Fictionwise, 2002
"Mom and Dad at the Home Front," Realms of Fantasy, August 2000; reprinted in Year's Best Fantasy, Harper Eos, Spring 2000; Nebula Finalist 2002; Fictionwise 2002; New Magics, Tor, 2004
"The Hero and the Princess," Lone Star Stories, November 2005
"Being Real," Lone Star Stories, October 2006; Book View Cafe
"Summer Thunder," Coyote Wild, January 2007
"The Princess, the Page, and the Master Cook's Son," Heroes In Training, August 2007